Almost here
Less than 30 days out from CppCon 2017, regular session and poster submissions are closed, both of the field trip tours are sold out, and most of our official hotel blocks are either closed or sold out.
But, even now, there are still conference opportunities. There is still over two weeks left of regular registration, we are still accepting class registrations, we have rooms available in some of our official hotel blocks, and it isn't too late to attend sessions for free by signing up as a volunteer.
To day we are also opening up two ways to present at the conference.
Call for Lightning Talks
Lightning talks are fast paced, short presentations often sprinkled with humor and intrigue. The popular 5-minute talks present topics that are interesting to C++ programmers. This opportunity is open to speakers at all experience levels.
Check out some of our previous lightning talks on our YouTube channel. They cover a single topic, start with the good stuff, and end making a point. Anyone can do one, but be sure to practice because 5 minutes goes by incredibly fast. Here is your opportunity to share that one technique you wish everyone knew, that one little known fact that should be well known, that one tool that makes your life easier every day, or a collection of little things that you can fit into 5 minutes.
Anyone can submit a lightning talk, you don't need to be a conference speaker (or even a registered attendee). To submit, visit our Lightning Talks Submissions page.
Call for Open Content
As we do every year, we offer Open Content session in the early morning, over lunch, and in the evening.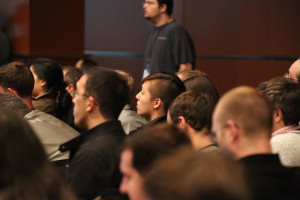 Open Content is just that, open! Attendees and regular program speakers alike can propose sessions on anything that interests them. These might feature a single facilitator leading a room through an exercise, activity or demo, a panel of 3-5 people taking questions from the room, a "hackathon" on a specific project, or an open conversation among the whole room. The projector is available for slides or public note taking.
Open Content is designed for flexibility so that a "Birds of a Feather" talk may be proposed even after the conference has begun. A speaker who gets a lot of post-talk questions may agree to host a Q&A session in the Open Content time. An attendee inspired by a session may host a session to explore a topic further or start on a group implementation of something.
Anyone can submit an open content session, you don't need to be a conference speaker (or even a registered attendee). To submit, visit our Open Content Submissions page.
These sessions will be open in another way too – Open Content does not require conference registration. That's right, everyone who is in the area is welcome to come and join us for all the early morning/lunch/evening sessions, including proposing or leading a session. This is part of our goal to be an inclusive conference for the entire C++ community.
Free Friday
All CppCon 2017 events on Friday, September 29th, do not require conference registration. That's right, just like all our evening sessions, all Friday sessions are open to the public without a conference registration. This includes an address by one of our most highly anticipated plenary speakers, Matt Godbolt, and the Sara Chipps lecture and workshop.