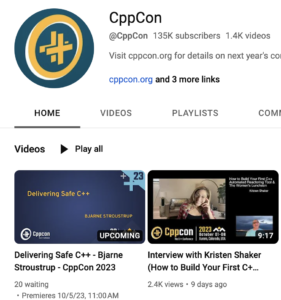 We've posted all of the CppCon 2023 keynote talks: Bjarne's keynote, Bret and Bill's keynote, Laura's keynote, Herb's keynote, and Andrei's keynote.
After all of our session videos are edited, we'll begin releasing one CppCon 2023 Main Program video every business day to our YouTube channel. All of our Main Program videos will be posted and freely available by about the end of February, at which point we'll start posting Lightning Talks daily.
If you're anxious to see a particular session's video you may not want to wait. Early Video Access is for you!
For $149 you will be given access to all CppCon 2023 videos as soon as they are edited and uploaded to the Early Video Access system (approximately November 5). This means that you will have full access to the entire collection of CppCon 2023 video content before they are publicly published on YouTube! Each video will be exclusively available in the Early Video Access system for a minimum of 30 days.