Volunteering at CppCon
If you would like to attend CppCon 2019, see great C++ content, and meet our speakers and attendees, but conference registration doesn't fit your budget, consider volunteering.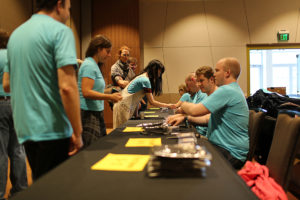 We are looking for volunteers to help run the conference. We need people to:
help assemble registration packets and badges,
register attendees,
assist speakers with Audio/Video (AV),
and, in general, be on hand to make things run smoothly.
In exchange, we'll see to it that you'll spend at least half of your time in sessions. It would be great if you could join us for the whole week, but if you can only make it for one or two days, we can work with that. We have information on our Volunteer Page. If you would like more information, please email volunteers@cppcon.org.
Volunteer Grant Program
This program has grants to cover some or (in a few cases) all of the costs of lodging and travel for a limited number of volunteers. Grants will be awarded to applicants that can commit to volunteering for five days. Grant applications will be accepted until June 25th and judged on the basis of participation and leadership in the C++ community.
If you:
are active in the C++ community on-line, in your local user group, or at C++ events,
are actively supporting C++ on StackOverflow or GitHub,
have worked on an Open Source C++ project like an Open Source library, CppReference, C++VAP,
write reviews for Open Source libraries on Boost, Boost Incubator, or C++ Reviews,
or, have a blog, podcast, or YouTube channel on C++,
but have not attended CppCon because you can't afford the travel and lodging, this is your opportunity.
For more information about the Volunteer Grant Program, read our Volunteer Page.