The grand opening of the Gaylord Rockies, CppCon's new home as of this year, was held this past weekend and they invited
your Conference Chair (that would be me) and the team from our event management partners, Krueger Event Management  (that would be Mike and Karen Krueger), along with five hundred other event planners to spend the weekend. This gave the team at the GR (yes, that's what we call it) a chance to show off the brand new convention center and what they can do with everything from food and beverage to decorating and AV.
The team at our previous home, the Meydenbauer Center in Bellevue, was great and we don't expect to ever find a better team, but from what we've seen so far, we may have found a team that can match them.
Gaylord convention centers are known for their inspiring atriums and impressive public spaces and the Rockies lives up that reputation. The main atrium is designed in a mountain lodge style with a view that overlooks downtown Denver and the Rockies beyond. This is the center of the public space and is large enough to feature design elements like enormous (faux) boulders and a historic nineteenth century railroad caboose on a train track that goes over a bridge crossing a water feature fed by the indoor waterfall.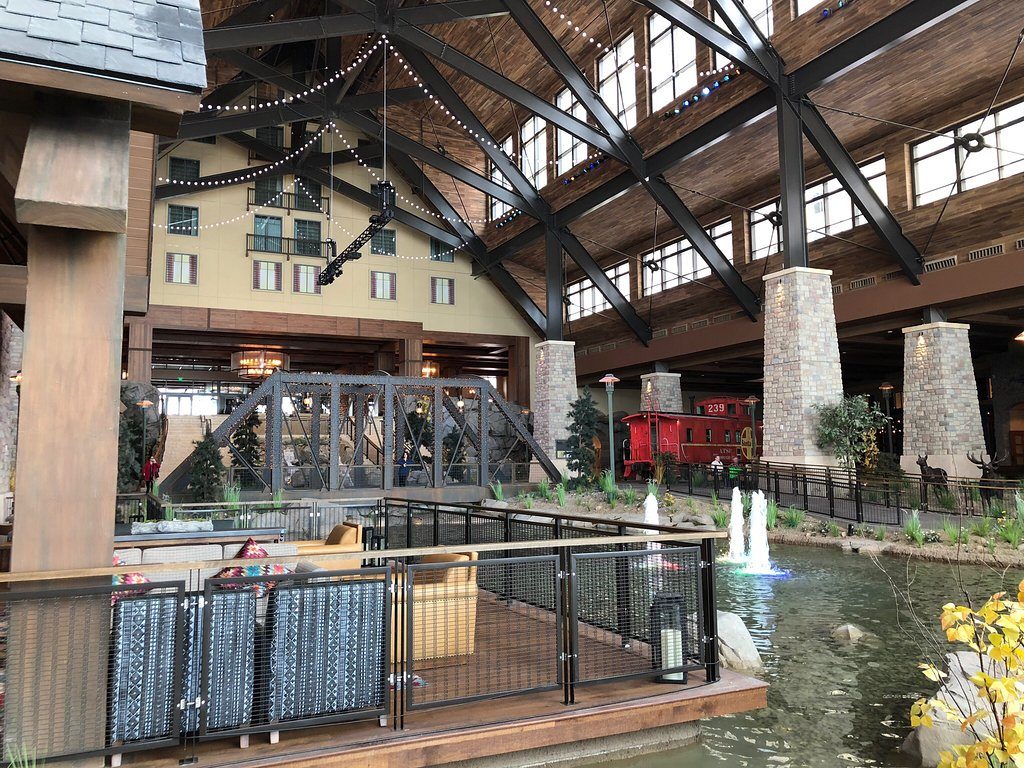 This area has plenty of casual seating and also dining tables served by "ski village" food and drink bars. It also connects the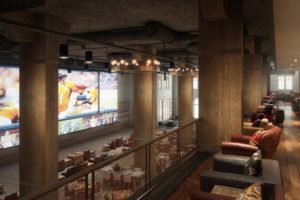 three main restaurants (one Asian, one Italian, and a steakhouse) and the sports bar, which seats five hundred and features the largest video screen in Colorado. Well, the largest indoor screen. Apparently, the one at the Bronco's stadium is bigger.
All of the venue is spacious, modern, and filled with Colorado/Rockies inspired art and decor.
To the left of the atrium, as you enter, is the spa, a huge fitness center, and an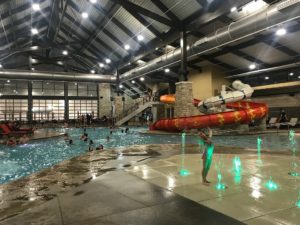 indoor/outdoor pool area that features a couple of water slides, one five-stories high, as well as a mile-long "lazy river." I didn't pack a swim suit, but I regretted it as soon as we stepped into the pool area. Even for an old guy like me, it looks like a lot of fun. Don't forget your suit.
To the right of the atrium, is a store for souvenirs and the kinds of things that business travelers sometimes forget to bring and a "grab and go" market with snacks and things like salads and sandwiches. Beyond these is the corridor leading to the convention center which features a Starbucks and the largest FedEx/Kinkos in Colorado.
In our search for a new venue, we weren't looking for luxury. We were looking for a home that would best accommodate our size and growth (and had good dates available). The Gaylord is a bit up-scale, but the space we are getting is so exciting that we knew it was the best match for our requirements.
We'll have enough space to seat everyone in one room for plenary sessions (without resorting to an overflow room) for the foreseeable future. We'll have enough breakout spaces that we can run the seven tracks that we have now and expand in the future with a possible academic track or other options. We'll have the space to host the standard committee's Low Latency and Game Developer Study Group (and perhaps other groups) under the same roof.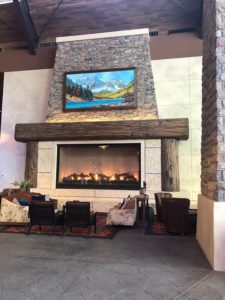 I don't want to make a public commitment to anything that isn't completely locked yet, but just as an example of what we can do with extra meeting space, we are working on a "quiet room." This is a space with no conversation or phone calls, but with seating and power for charging stations and to work on slides or email. Or to just spend a few minutes of downtime in the middle of a long day.
As excited as I am about the additional meeting space, I'm even more excited about the ample public space. As we were outgrowing the Meydenbauer, we felt the pain first in the public areas. We use public space for the poster competition, exhibitor tables and booths, breaks and lunch concessions, the bookstore and author signings, public seating and whiteboards, registration and the information desk, and charging stations as well as its most important purpose, getting to sessions and talking with other attendees. This won't be an issue at the GR convention center. As we were walking through the space this weekend, my comment to Karen and Mike was that it was an "embarrassment" of public space. The challenge for us as planners will be to make the best use of it. Not having enough public space won't be an issue.
One of our top criteria for selecting a venue was finding a place where all attendees could be "under one roof." Although our previous home at the Meydenbauer Center was a great experience, we weren't happy about having attendees in half a dozen hotels scattered across Bellevue. We feel that the conference experience will be enhanced by having everyone staying together.
Rooming at the GR will mean more opportunities to meet with other attendees and it will also make attending the conference less stressful. CppCon is packed with content which makes for a long, exhausting week (to nine days with classes). As Kate Gregory suggests, taking an afternoon nap may be a key survival technique. Knowing that your room is just an elevator ride away means you can get a cat nap in while missing only one session. It is also comforting to know that you don't need to leave the building after attending a lightning talk session that ends at 10pm.
The GR has relaxation/stress reduction options. I personally tested out the spa (the sacrifices I make…) and I can't think of a better way to relax and reinvigorate during the conference. A few minutes in the pool area would be a close second and that would be free. Did I mention that you should bring your swim suit?
I'm so excited about our new home that I vacillate between wishing it were September already and being overwhelmed with the work ahead of us in the next half year.
A key component of our preparation plan is involving local C++ programmers as much as possible. We are working with the North Denver Metro C++ Meetup group (thank you Jason and Scott), who are excited for us to make our new home near them. They are helping in several ways including working on the field trip (which we teased at the close of last year's conference) and finding local partners such as an event/portrait photographer and a bookstore we can work with for books sales and author signings.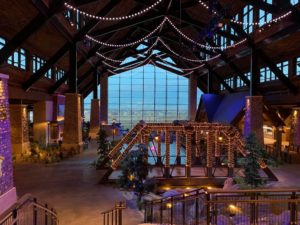 This last weekend's trip was very valuable to Karen, Mike, and me because it was our first chance to see the GR, to meet members of the their team, and see them in action. Because it was their grand opening, while we asked a lot of questions, it wasn't an opportunity for us to sit down with the team and do any serious planning. We've set up another visit when we'll have the team's undivided attention and can really sit down, roll up our sleeves, and plan for the best use of this marvelous space.
That meeting will be later this month. Karen and I will return and in addition to the GR team, we'll be joined by Herb Sutter, President of the Standard C++ Foundation, the organization that is ultimately responsible for CppCon. During this trip we'll also be meeting with local members of the planning committee, who will get their chance to tour the space.
The GR is hosting a special meeting of the local C++ meetup on March 14th at the GR which will feature a talk by Herb. If you are anywhere near Denver, don't miss this opportunity to hear Herb's talk and to get a taste of the new home for CppCon.
I'll see you all in Aurora in September!