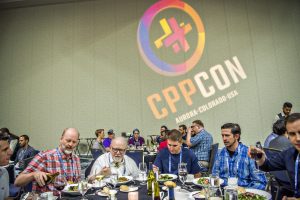 The Main Program for CppCon 2020 is now live!
We'll have over seventy-five regular sessions delivered by the best C++ presenters in the industry, many returning from previous years as well as some exciting new voices. We'll have five or six concurrent tracks full of sessions containing C++ best practices and what you need to know about the brand spanking new C++20.
This year's Main Program features three special tracks including the Back to Basics Track, the Embedded Track, and one surprise that we've not announced yet.
In addition to the Main Program, we'll have panels, lightning talks, BOFs, exhibitors, social events, classes, and a new feature, online Ask Me Anything (on C++). These AMAs are focused on creating additional engagement opportunities with presenters and other attendees.
Most of the program is published, but we are still working a few surprises, so keep checking back.
We'd like to thank the Program Committee, our speakers, and the many professionals who proposed talks which we, unfortunately, just couldn't squeeze in this year. Thank you for your hard work and enthusiastic support for this year's program!
If you aren't certain about CppCon, just watch (one year old) video!
If you recognize someone you know, let them know that you'll be looking for them online!