If you would like to a part of making CppCon an event, please join us as a volunteer.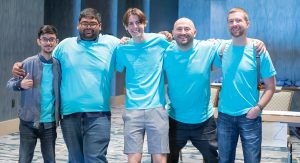 Being entirely online this year, means the volunteer duties will be very different than previous years, but the mission to produce an event that runs smoothly for all attendees is that same.
Delivering all of our content online this year will require more training of volunteers to understand the content delivery technologies that we'll be using.
If you want more information about volunteering, contact us at volunteers@cppcon.org.
The main volunteer detail will be between 0800 to 1500 Aurora, Colorado (Mountain) time. If you can volunteer all week, this would be excellent, yet if you only have limited time, we welcome you as well.
If you want to join a great team and be a part of history making in the C++ community, please complete the CppCon 2020 Volunteer Application Form. There will be other steps after completion, yet will contact you to assist you with setup for the conference.
Thank you
Brett Searles
Matthew Butler
Please note that registration to be a volunteer will be ending the August 31st so that there will be enough time to adequately train all volunteers.