Note: With the move to having the conference online, classes will also be online and will need to be coordinated with instructors for times and days. In general classes with be held from 09:00 to 15:00 Aurora time and two-day classes will be scheduled over three days. Pre-conference classes will be help September 9-11 and post conference classes will be held September 21-23.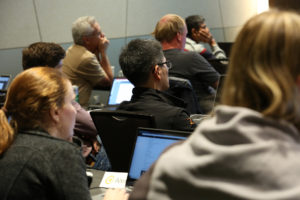 To provide you with more opportunities to attend the CppCon classes, we are pleased to offer two separate class schedules for CppCon 2020. One set of classes will be held prior to the conference on Saturday and Sunday, September 12th and 13th; another will be held following the conference, on Saturday and Sunday, September 19th and 20th. We will also be offering three one-day classes.
For individuals whose organization requires it, a certificate of completion is available for classes attended. For information contact the conference registrar.
Class and conference registration are separate. Attendees can register for either one or both. Class size is limited, and classes may sell out. Most classes are two-day classes.
A Topical Guide to Classes
We are offering quite a spectrum of options for C++ engineers.
Presenting: If you are interested in increasing your technical presentation skill, we offer Engage, Entertain, Educate: Technical Speaking that Works with Andrei Alexandrescu, Dan Saks, and John Lakos.
Language: If you are interested specifically in leaning about C++ language details, new language and library features, and how to use them we offer:
Design: If you are interested in:
Concurrency: If you are looking for:
Tools: If you are looking to:
Quality: If you want to have code that lets you sleep at night, we offer
Classes by Schedule
One-Day Pre-conference Classes (Sunday, September 13th only)
Two-Day Pre-conference Classes (Saturday and Sunday, September 12-13)
One-Day Post-conference Class (Saturday, September 19th only)
Two-Day Post-conference Classes (Saturday and Sunday, September 19-20)