Whilst many of the main conference talks go deep, Lightning Talks are, well, lighter. That doesn't mean you won't gain deep insights from some. Many, however, are humorous, entertaining – and often high-energy!
They can also be a great opportunity for newer speakers to break in to speaking at the CppCon venue.
So if you have something to share that the C++ community might enjoy, and you think you can fit it into a five-minute package, post your submission here
Note that the lightning talk sessions are open to anyone, regardless of whether they have a conference ticket – even if you want to speak!
Lightning Challenge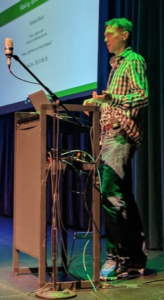 If you're looking to level up, and want a chance to speak for more than five-minutes, perhaps you're up for the Lightning Challenge?
The catch is it's up to the audience (using "modern technology") whether you get the full eight minutes, or get cut off at four!
Sign up at the same place for this gamified format or come and observe the antics as the presenters try to win you over for more time.
Whether presenting or being entertained, get ready for the always entertaining Lightning Talks on Tuesday, Wednesday, and Thursday night. See you all there!.
For more details on submissions, see The Lightning Talks Submissions page