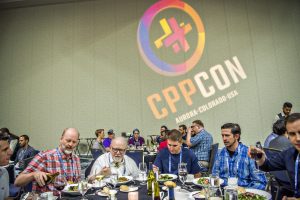 The Main Program schedule for CppCon 2023 is now live! This year, CppCon is back to an all-onsite format for the conference program.
We'll have over eighty breakout sessions delivered onsite by the best C++ presenters in the industry, many returning from previous years as well as some exciting new voices. We've already announced our onsite Opening Keynote on Safe C++ and one other plenary talk on AI and C++, and will be announcing our other three headline talks here in coming days.
This year's Main Program features a broad and deep general program. Within the program are six dedicated topic tracks: The Back to Basics Track, the Embedded Track, the Software Design Track, the Scientific Computing Track and Tooling Track are back, and we have a new Robotics Track! These "tracks" are to help find talks in specific areas, but as always, there are lots of talks not assigned to a specific track covering a wide variety of important topics.
In addition to the Main Program, we'll have at least two panels (one on Safety and Security for C++, and our annual Committee Fireside Chat), multiple sessions of lightning talks, Open Content talks, BOFs, exhibitors, social events, and pre/post-conference classes that attendees have enjoyed in past years.
Most of the program is published, but we are still working on a few surprises, so keep checking back to see any new additions or time slot adjustments.
We'd like to thank the Program Committee, our speakers, and the many professionals who proposed talks which we, unfortunately, just couldn't squeeze in this year. Thank you for your hard work and enthusiastic support for this year's program!
We hope to see you all in less than a month—so register now.