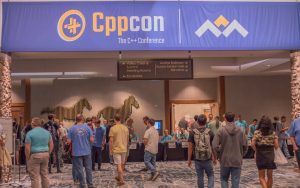 Registration is now open for CppCon 2021!
Our community has been eagerly awaiting a return to the type of in-person events for which CppCon has long been known and this October we are bringing you that event in Aurora, Colorado.
Attendees must be fully vaccinated for COVID-19 before attending any onsite events. Attendees must confirm their vaccination status with the conference either online or onsite at badge registration. Confirming online in advance of the conference saves time by streamlining the onsite registration process.
Registration details are available on our registration page, but the high points are:
Substantial savings are available for Early Bird registrations before the end of July.
For those unable to attend in person, Online registration gives access to both online and onsite sessions as well as our Gather.town virtual venue for fun, games, puzzles, and engagement with other attendees including presenters and exhibitors.
Onsite attendees have the option of registering for both onsite and online access or for onsite-only. Why would an onsite attendee want to include online registration? Only online attendees have access to online sessions and the virtual venue. Online attendees will also have access to "rough cut" versions of all session recordings (onsite and online) until they are edited and made available on the CppCon YouTube channel.
We are also offering an Economy registration that doesn't include the "Meet the Presenters" Banquet, annual tee shirt, or souvenir that are included in Full registration.
We have three options available for full-time students, Full, Economy, and Online.
We are accepting registrations for the Field Trip on the Georgetown Loop Railroad, which is sponsored this year by the North Denver Metro C++ Meetup.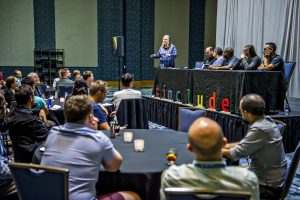 We are not yet accepting reservations for this year's CppCon Academy classes.
Visa application support for non-US attendees is available.
As always, we offer support for academics and employees of non-profits and, thanks to the support of the C++ Alliance, child care.